By Dr. Ertan Omerov
PRF (Platelets enriched fibrin)
The method PRF, which means "Platelets enriched fibrin", was developed by Dr. Choukroun in France in 2001. It is mostly used in aesthetic dentistry and oral surgery. This represents an advanced method for better treatment to bones and soft tissues and it finds its large use in surgical procedures with implants. The process comprises initially of taking blood sample from the patient, then proceeding it in a centrifuge where the platelets enriched blood plasma separates and fills in the places of the missing bone. That way, new vascular vessels form and new bones grow in the places with bone defects. This process is really simple and safe because it is exclusively the patient`s blood that is used and it only takes 12 minutes.
PRP (Platelets enriched plasma)
You can get outstanding results through this method with a help of your blood. What is it actually about? Besides the other functions, the platelets help blood coagulate and release the growth factors, thus they provide stimulation to stem cells to regenerate new tissue. In dentistry, this method is used for dental interventions, such as implants, which stimulate the speed of bone growth. It is also used for other purposes, such as: palate defects, sinus lift procedure, fistulas repair between the sinus cavity and mouth, grafts application and other.
PRP method is widely used in cases for skin rejuvenation. The growth factors released from your blood, return into the skin and stimulate new collagen for smoother skin and new blood vessels which result in an impeccable health and shine of your skin. This is a great innovative method by means of which Dentoria team creates unique beauty.
[separator style_type="double" top_margin="40″ bottom_margin="40″ sep_color="#bcbcbc" border_size="" icon="" icon_circle="" icon_circle_color="" width="" alignment="center" class="" id=""]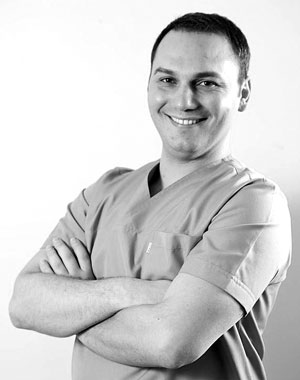 Dr. Ertan Omerov is the founder of the Private Healthcare Institution Dentoria, the only specialized clinic in the field of dental implantology in this region. He is always smiling, cheerful and approaches to all problems with optimism. He had the same attitude even before the foundation of Dentoria when he had a huge desire to improve the oral health of the people, always aiming to go forward to a greater success. He was born in Ohrid where he completed his secondary education. In 2003, he went to Turkey and enrolled at the prestigious Istanbul Faculty of Dentistry as a full-time student. He showed his enthousiasm, persistence and inexhaustible desire for an advanced education. He developed ambitions for dental implantology since the beginning of the studies and he was under supervision of the world renowned oral surgeon and implantologist Dr. Sc. Erkan Akilli for four years.
Upon graduation and work experience as a graduate dentist he worked in the Dental Polyclinic "Endomak" in Gevgelija for one year. He continued effortlessly with self improvement by discovering all the inovations offered by the world. He actively participated in numerous dental congresses, seminars, symposia and scientific research in the field of implantology and oral surgery all over the world. He now possesses over 30 international certificates for successfully completed courses in Implantology and is one of most professional dentists in the region.
He speaks Turkish, English and Greek.
[separator style_type="double" top_margin="40″ bottom_margin="40″ sep_color="#bcbcbc" border_size="" icon="" icon_circle="" icon_circle_color="" width="" alignment="center" class="" id=""]